At 101, Tallahassee resident Vivian Allen becomes honorary English department faculty member
---
At 101, Tallahassee resident Vivian Allen becomes honorary English department faculty member
The realization of a lifelong dream is something most people aspire to achieve but not everyone experiences. Fulfilling that dream could be even more meaningful when your life has spanned more than a century.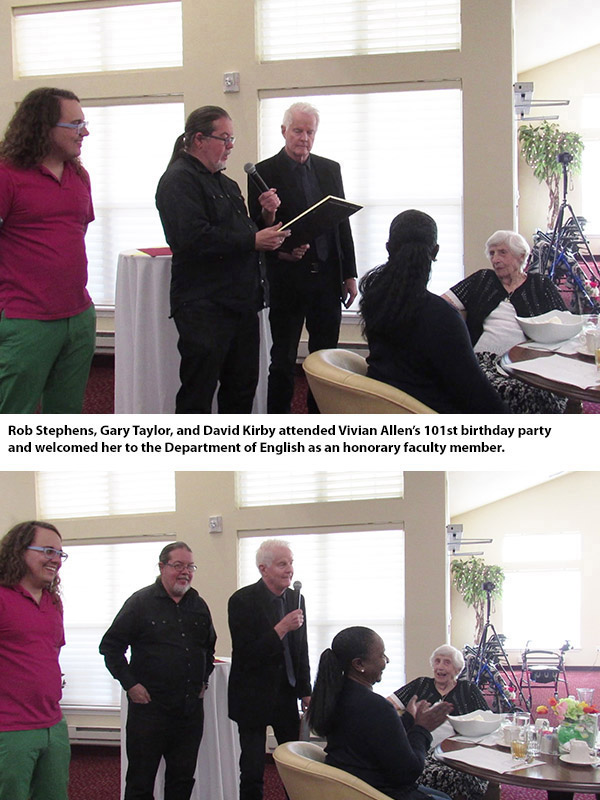 Vivian Allen, who turned 101 on March 23, 2018, discovered on her birthday that Florida State University's Department of English was honoring her long-held wish to become a professor of English. Professors Gary Taylor and David Kirby, with Rob Stephens, who recently earned his Ph.D. in creative writing at FSU, surprised Allen at her birthday celebration and presented her with a certificate naming her as an honorary professor.
The department learned of Allen when Melissa Moss, who is manager of Mulligan Park, an independent-living community in northeast Tallahassee where Allen lives, emailed Administrative Associate Carolyn Hall.
In the message, Moss explained she had asked Allen if there was anything she wished she had accomplished or achieved in her 101 years of life. Without hesitation, Allen responded, "My biggest regret, the one thing I've always wanted to accomplish, is to be a Professor of English," Moss wrote in the email. Hall forwarded the email to others in the English department, and within hours a plan was set: members of the department would attend her birthday party lunch to make her 101th more memorable.
 After the crowd sang "Happy Birthday," Moss introduced Taylor, Stephens, and Kirby, and the three approached Allen's table. Kirby first spoke to Allen.
"I'd like to say that you're about to become an English professor," he said, as he showed her the certificate. "How does that sound?"
Taylor welcomed Allen to the department by reading the certificate, as she looked on with surprise.
"Whereas Vivian Allen is a passionate and lifelong student of literature, today, on the occasion of her one hundred and first birthday, the English Department at Florida State University is pleased to attest and affirm that she is an honorary member of its faculty with all due recognition pertaining thereto. Congratulations, Professor Allen."
The honoree then told her story of living on the West Coast in 1935, the time when she was ready to enter college. Stanford University accepted Allen as an undergraduate, but her family could not afford to send her due to financial hardships caused by the Depression. She studied secretarial science for two years at Oregon State University, which she referred to as a "cow college," before more Depression-era hardships forced her to drop out.
"I finally got my B.A. in history, forty years later in 1975," Allen said, referring to her graduation from California State University-Fullerton. "That was not very quick. But that was it."
She added that recently she has been telling a friend, "you never say never."
"Throughout high school I said I would never go to Oregon State, and that  I would never work in an office," Allen said. "I did both . . . so, good luck everybody," she added, eliciting laughs from the people celebrating with her.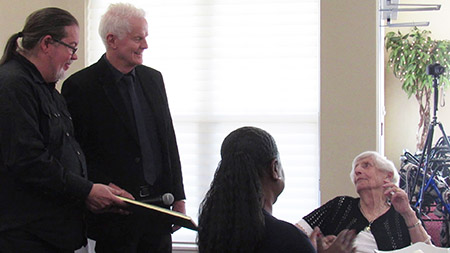 "Well, we welcome you to the department," Kirby said, "and there is a faculty meeting on Monday."
Allen laughed and thanked Kirby, Taylor, and Stephens for the honor, and thanked everybody else for attending her birthday party.
Taylor said the experience and Allen's dream is representative of wording on the English department's website, the offer of "language for a lifetime." A degree in English, he says, opens up a range of job opportunities because more professions depend on learning through reading and achieving with writing.
"But becoming a professional reader and writer offers more than a career," Taylor says. "It offers tools that continually enrich our lives: when we are not at work, and when we have retired from work. Vivian is a perfect example of how much anyone can get from a lifetime of literature."