What's Involved
Reading Group
The Rhetoric and Composition program holds a one credit hour Reading Group each semester that provides a forum for open-ended discussions of a single topic or text that we explore throughout semester together. PhD students are required to attend until their final semester in the program, and others are welcome to participate, including other faculty members, as they are available. The purpose of Reading Group in part is to provide opportunities for engagement with and conversations around a large range of topics relevant to the field.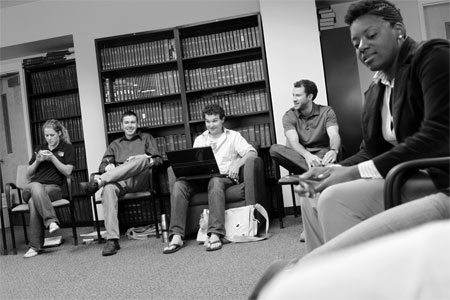 At times the subject of Reading Group has been based on an issue, topic, or theme important in the field, for instance:
Rhetorical memory
Invention
Genre and Arrangement
Writing Assessment
Community Literacies
Intellectual Property and Copyright
Contemplation and Reflection
At other times the Reading Group centers on a new, challenging, or significant text to consider, for instance:
Byron Hawk's A Counter-History of Composition: Toward Methodologies of Complexity
Sid Dobrin's Postcomposition
Adam Banks' Digital Griots: African American Rhetoric in a Multimedia Age
Linda Flower's Community Literacy and the Rhetoric of Public Engagement
Regardless of the topic or text, Reading Group conversations foster exposure to, and rich discussion of, a variety of subjects to deepen and broaden our knowledge of the field.