What We Do
College Composition and Communication

The premier journal in rhetoric and composition is College Composition and Communication (CCC), and the immediate past editor for CCC is FSU's Dr. Kathleen Yancey. The journal publishes research and scholarship in rhetoric and composition.
For each year of her appointment, Dr. Yancey is editing a special issue addressing key topics in rhetoric and composition.
The first special issue, released in September 2010, addressed the "future of rhetoric and composition."
The second special issue, released in September 2011, focused on indigenous and ethnic rhetorics.
The third special issue, released in September 2012, focused on research methodologies and the ways they have, do, and might inform the field.
The fourth special issue, released in September 2013, took as its topic The Profession.
The fifth special issue, a double issued released in September and December 2014, addresses Locations of Writing.
Peitho Special Issue - "The Critical Place of the Networked Archive"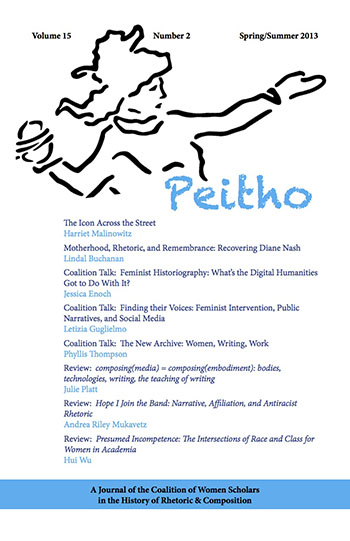 Special Issue - "The Critical Place of the Networked Archive" - Peitho is the flagship journal of the Coalition of Women Scholars in the History of Rhetoric and Composition and Fall/Winter 2014 marks its first special issue, dedicated to "The Critical Place of the Networked Archive" and guest-edited by Tarez Samra Graban (FSU) and Shirley K. Rose (ASU). This special issue enacts a multi-perspectival examination of networked archival scholarship on early 20th-century women's suffrage. Seven contributors work with a digitized collection of cartoons by Chicago Tribune illustrator John Tinney McCutcheon, that depict the woman's suffrage movement in Great Britain and the United States, using multi-, inter-, and cross-disciplinary methodologies to question the means (and screens) by which views of British Suffrage circulated "at home and abroad." In response to his depictions, they articulate unique perspectives they have discovered—based on the material artifacts themselves, the contexts from which they arose, or the digitized contexts and metadata in which they continue to abide—for viewing work by McCutcheon and other 20th-century cartoonists, raising questions about how new audiences, contexts, and movements can emerge from such a transnational digital space.
Kristie Fleckenstein (FSU), Jaque McLeod Rogers (U Winnipeg), Sarah Skripsky (Westmont College), Jason Barrett-Fox (Arkansas), Tarez Samra Graban (FSU), Oriana Gatta (GSU), and Shirley K Rose (ASU) use the event of this digitized archive as their foundation for demonstrating a range of critical and imaginative perspectives that re/place historiographic methodologies in the spaces between methods and modes of historical inquiry. All contributions study histories of national accessibility alongside facts of global circulation and media ecologies, and all contributions are guided by an ethic of identifying and making accessible various sets of resources for repurposing and recirculating by diverse scholars, for multiple purposes.
ATD Special Issue-"Writing across the Curriculum and Assessment: Activities, Programs, and Insights at the Intersection"

Guest Editors: The Florida State University Editorial Collective - Kathleen Blake Yancey, Emily Baker, Scott Gage, Ruth Kistler, Rory Lee, Natalie Syzmanski, Kara Taczak, and Jill Taylor
A Special Issue of Across the Disciplines, which was released in December 2009 http://wac.colostate.edu/atd/assessment/index.cfm, focused on Writing across the Curriculum and Assessment. The Editorial Team received more than 30 proposals. The authors of the introduction idenitified five questions deriving from the individual articles:
What is the role of the future writing tasks in motivating students? The Oregon State experience shows that when students believe that their writing efforts are connected to future writing tasks, they are more engaged and learn more, a finding consistent with other research (e.g. Hilgers, Hussey, & Stitt-Bergh, 1999; Beaufort, 2009). How else might we build connections between current and future writing tasks into classrooms, programs, and assessments, and with the same good effect?
Speaking of the future and as recommended by the MIT experience, how else might we engage our own alumni? What can alumni share about writing outside the academy? What do they value in our programs? Are there risks of including alumni perspectives and reports, and if so, are the risks worthwhile?
As we gather information about disciplinary expectations, as in the North Carolina State and Carleton models, what are the implications of this new knowledge for first-year composition? If we think that there are implications, should leaders of first-year composition be involved from the beginnings of such assessment exercises?
As recommended by the University of Hawai'i experience, what is the appropriate mix of methods in assessment, and how does one combine such a mix of methodologies in an iterative fashion? What is the sequence? Does it depend on location, or is there a more generalized systematic approach?
As recommended by all the approaches here, what is the relationship between writing assessment and research in writing? That relationship shows up nowhere more clearly than in the Oregon State example, where OSU forgoes additional research in service of assessment and learning. At the same time, it's not uncommon for us to hear that assessment is a kind of research (O'Neill, Schendel, & Huot, 2002), which in some ways is what we see in the North Carolina State model: as faculty articulate disciplinary genres and outcomes, we learn about writing in fields different than ours. What does our language suggest about the relationship btweeen assessment and research? What difference, if any, does it make when we change the way we refer to students: are their roles different if we shift them from stakeholders to native informants? How do we commodify new learning of the kind we see at OSU and NCSU as knowledge, or should we when it is collected in an assessment context? Is assessment itself research, or is it simply like research? But if the latter, how is it different? What are the differences in processes, practices, conventions, and expectations? And how do we create a program that supports both in appropriate ways?