What's Involved
Assistantships in Rhetoric and Composition
Assistantship opportunities in the Rhetoric and Composition program at Florida State are abundant and provide graduate students with valuable preparation to enter a range of faculty positions upon graduation. Students work with their advising faculty to lay out an assistantship trajectory that meets their strengths and professional goals.
Once graduate students have 18 graduate hours in the discipline, they are able to teach their own sections of First Year Composition. Until then, they work in a variety of other capacities within the department and program.
FYC at Florida State consists of several options that fulfill the two-course sequence required for all undergraduate students. You can learn more about the course options and resources for FYC teachers by clicking on the above program website link or by contacting Dr. Deborah Coxwell Teague, the director of the FYC program and a graduate of FSU's Rhet/Comp program.
TAs who have demonstrated excellence in teaching FYC can apply to mentor small groups of teaching assistants new to the FYC program. These mentors meet regularly with their groups and individuals, observe courses, and provide feedback and support to help the new instructors transition into the program.
Advanced graduate students in the PhD program can apply to fill one of two rotating positions as Assistant Director of the FYC Program. This position exposes the graduate students to a fuller range of the work and responsibilities of running the FYC program (e.g., participating in teacher preparation, scheduling courses, developing curriculum, supporting teachers, responding to problems, etc.).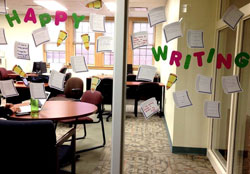 Students from all the graduate programs in the department have opportunities to tutor students in writing in one of the many sites of the RWC: Williams Building, Johnston Ground, Strozier Library, and the Graduate Writing Center.
Students can sign up for or drop by any of the RWC sites to receive one-on-one tutoring for a range of courses and disciplines that assign writing.
Training and professional development is offered for new and continuing tutors through Dr. Stephen McElroy, the Interim Director of the RWC.
Advanced graduate students in the PhD program can apply to assist the Director of the RWC in one of several administrative positions. These positions introduce the graduate students to a fuller range of the work and responsibilities of running a writing center (e.g., participating in tutor preparation, scheduling and supporting tutors, developing tutoring materials, supporting ELL/ESL, responding to challenges, etc.).
Advanced PhD graduate students have the unique opportunity to teach upper-level, major courses in the EWM program, which is nationally recognized for its inventiveness as a contemporary English major that combines rhetorical theory, technological innovation, history of texts technologies, and professional development. To find out more about this program, click on the link above or contact any of the faculty in the program.
Writing and Editing in Print and Online (WEPO) is a core course often taught by advanced graduate students that teaches students to navigate composing in a variety of modalities (e.g., written, audio, visual, spatial, etc.) while using, crossing, and sometimes blurring different mediums and genres.
Rhetoric is also a core course in the EWM major that can be taught by advanced graduate students who have a strong background in rhetorical theory. This survey course introduces students to key concepts and frameworks useful for analysis of texts, events, and communication. Rhetorical canons of invention, arrangement, delivery, style, and memory are discussed in the context of different media (speech, print, digital, network).
Other Courses Offered by TAs as prepared
Undergraduate writing center tutor preparation
History of Texts Technologies
Article and Essay Technique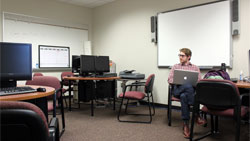 Graduate students with interests and expertise in digital technologies have the opportunity to consult in one of two locations of the Digital Studio, spaces designed to meet the technology composing needs of undergraduates, graduate students, and faculty alike.
The studios offer high-end technologies and programs not widely available on campus (e.g., Adobe Suite), space for individual or collaborative work, and expertise to assist people working on a range of digital projects spanning from scholarship and research to class projects and teaching.
Advanced graduate students can apply to assist the Director of the Digital Studio administratively. This position introduces the graduate students to a fuller range of the work and responsibilities of running a Digital Studio (e.g., training and working with new consultants, scheduling and supporting consultants, developing studio materials, responding to problems, etc.).
Computer Writing Classroom (CWC) Coordinator
Advanced graduate students in the PhD program can apply to coordinate support for instructors in a variety of programs who teach in one of several computer or laptop ready classrooms. This position works in conjunction with the Williams Digital Studio and provides opportunities for the graduate student to get a better sense of the responsibilities maintaining and supporting effective teaching with digital technologies.
The CWC Coordinator provides workshops and support for new and experienced instructors, helps maintain and update the technologies, interfaces between the needs of the instructors and the Digital Studio, and takes the lead in hosting the annual Digital Symposium that highlights digital work in the department.
Rhetoric and Composition Assistant to the Program Director
One graduate student each year assists the Rhet/Comp Program Director, getting the opportunity to see and help with the details of running a graduate program.
The program assistant helps schedule speakers; host events; produce the newsletter; maintain the rhet/comp reading lists, library, website; and keep the program informed of events, deadlines, opportunities, and other announcements.