What We Do
The Museum of Everyday Writing (MoEW)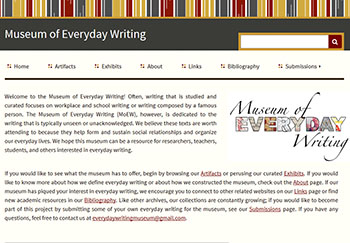 The Museum of Everyday Writing (MoEW) is dedicated to writing that is often unseen or unacknowledged: everyday writing, or that which is composed by ordinary people in non-academic and non-professional contexts and which represents the literacy practices through which ordinary people maintain relationships and structure their lives. These materials complement and enrich the more traditional archives of academic, literary, or professional writing or writing that is composed by a famous person. Co-founded by Jennifer Enoch, Megan Keaton, and Sarah Marshall, the Museum provides a space where everyday writing--which includes a variety of written, visual, and aural texts from letters to graffiti to scrapbooks--can be curated and studied. The Museum houses artifacts that can be used for research in everyday writing and literacy studies, multimodality, materality, visual design, and many other areas. In addition to the artifacts themselves, the MoEW hosts exhibits, composed by Museum contributors and interns, that serve as examples of scholarly research based on everyday writing. To read more about the Museum's artifacts or everyday writing in general, please visit the Museum blog at everydaywritingmuseum.wordpress.com. In order to contribute artifacts, compose exhibits, or become more involved with the Museum, please contact Jennifer Enoch and Megan Keaton at everydaywritingmuseum@gmail.com.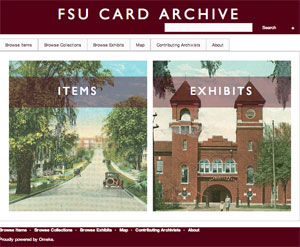 The FSU Card Archive, supported by the Rhetoric and Composition program, is an archive of over 2500 postcards—many of which date back to the late 19th and early 20th centuries—that have been broken down into metadata categories for research. Co-founded by Stephen McElroy, Katie Bridgman, and Michael Neal in 2001, this archive is a site for research into various areas: visual rhetoric, material productions of everyday writing, social politics and representation. But even more than that, it's a site that has been curated by undergraduate student working alongside those of us in the program. In addition, students in a variety of undergraduate and graduate courses have produced exhibits that arrange, explain, analyze, or otherwise make meaning from the cards. Their work can be found in the "Exhibits" section of the site. Anyone can visit the site (located at http://fsucardarchive.org) and peruse the contents. If you or your students are interested in building exhibits and adding content to the site, please contact Michael (mrneal@fsu.edu), and we'll be happy to give you the permissions.
If you are interested in reading more about the development of the archive, please feel free to read "Making Meaning at the Intersections: Developing a Digital Archive for Multimodal Research" by Neal, Bridgman, and McElroy in Kairos 17.3., which won the 2014 Computers and Composition Michelle Kendrick Outstanding Digital Production/Scholarship Award.
In the absence of women's published or publicly circulating texts, how can rhetorical historians recover their pedagogical and administrative work, and what can that recovery teach us about our disciplinary history in rhetoric and composition? The MetaData Mapping Project (MDMP) answers that question by tracing women's intellectual work through the migration of people, motives, texts, curriculum, and ephemera—all as reflected in institutional and archival metadata. MDMP is the prototype for a digitally crowd-sourced tool intended to help preserve, analyze, and make accessible information about unprocessed, obscure materials written by women pedagogues that have influenced the development of rhetoric or writing instruction since the 1890s.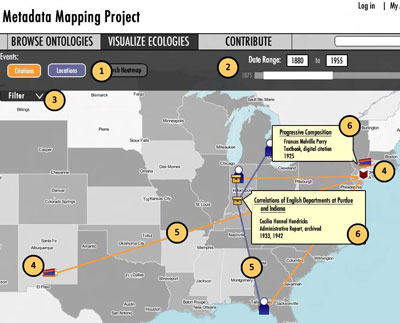 MDMP was conceived by Tarez Samra Graban in 2011 as a concept for moving feminist historiography in rhetoric and writing studies beyond building digital exhibits and recovery models that favor static locations, figures, and texts. It was inspired by her conversations with scholars who had been gathering different forms of data on women's institutional activities, but were uncertain of how to use what they had gathered, or what scholarly products might emerge from those forms: for example, administrative memos or faculty files; spreadsheets tracking the number of times an out-of-print textbook authored by women was mentioned in a more mainstream text; archival finding aids with obscure references to partially processed ephemera; research notes based on the curriculum vitae of non-tenure-track WPAs or women instructors whose names never appeared in the MLA list of faculty; and so on. It was also inspired by her interests in data networks and the digital humanities, which favor historical methodologies that look for significant activity in knowledge circulation, rather than in traditionally defined locations, texts, or events.
From 2013-2014, Tarez collaborated with data designer Alli Crandell to begin implementing visual ecologies. A hosted URL is in progress, and in its final form, MDMP will integrate visualization tools with topical ontologies in order to trace—transhistorically—the critical locations of women's intellectual work in rhetoric and writing studies since the Progressive Era. Critical locations are the ongoing interactions between where women's pedagogical and administrative activities have been performed or experienced, and where historians' ideas of women's pedagogical activities are documented or formed. In its experimental stages, MDMP is accepting small data sets or groups of records to help determine the parameters of its ontology and the possibilities for visualization.
If you would like to join the collaboration, have data sets to contribute, or have any questions about what kinds of data to contribute—large or small—please feel free to contact Tarez directly at tgraban@fsu.edu. For more about the development of this project, see "From Location(s) to Locatability: Mapping Feminist Recovery and Archival Activity through Metadata" in College English 76.2 (November 2013).