Poet and literary critic Stephanie Burt visits the English Department January 23-24
---
Poet and literary critic Stephanie Burt visits the English Department January 23-24
By Amber Deschene
Don't miss out on the chance to meet Stephanie Burt when she visits Florida State University to give a talk titled "Why Songs Are Poems, Why Songs Are Not Poems, and Why On Earth We Can't Stop Asking" and a reading of her own poetry. The English Department's Literature and Creative Writing programs are co-sponsoring Burt's visit.
Burt is Professor of English at Harvard University and she regularly writes about poetry and culture and the author of numerous books of criticism, including The Poem is You: 60 Contemporary American Poems and How to Read Them, and The Art of the Sonnet, as well as four volumes of poetry, most recently Advice from the Lights. Burt regularly contributes reviews and articles about poetry, music, pop culture, politics, gender/sexuality and LGBT issues to venues such as The New York Times Book Review, The New Yorker, Bookforum, The New Republic, The TLS, The London Review of Books, and many other publications, and is currently the co-poetry editor for The Nation.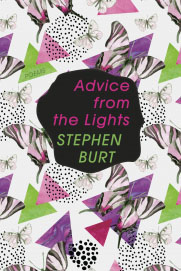 "I very much like meeting new writers, unless I have to meet 60 of them all at once," Burt says. She adds that her favorite part of traveling and talking about her new books is getting to know other writers, answering their questions, and giving any advice to help.
The New York Times in 2012 called Burt, "one of the most influential poetry critics of her generation." She is coming to Tallahassee to discuss the intricate ideas of lyric poetry, and she will address questions such as, are song lyrics poems? Are Bob Dylan's songs poems? What does the word lyric even mean today? 
Burt makes college visits and readings often, especially when she has a new book out, but this is her first time visiting Tallahassee.
"I enjoy meeting students and teachers, and seeing new places, especially when they're in parts of the country or another country that I don't know well at all," she says.
Burt first will give a poetry reading on Tuesday, January 23 at 8 p.m. at The Warehouse.
You can catch Burt again on Wednesday, January 24 at 3:30 p.m. in the Common Room (Williams Building Room 013) for her discussion on song forms, poetry, and the recent lyric theory dispute in literary studies. She will discuss the hypotheses about the differences between hearing and reading, between music and text, as well as talk about why we bother to read poems at all.