Inclusion, Diversity, Equity, Anti-racism, Accessibility, and Sustainability resources for the community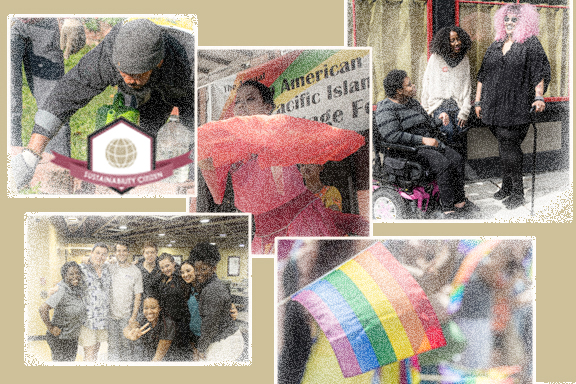 The Florida State English Department affirms difference and denounces exclusionary politics in all its many forms. Our goal is to advance social justice in higher education and support diverse knowledges and communities in our scholarship, teaching, and mentorship. As such, we are in solidarity with all those engaged in the fight against discrimination and bigotry, exploitation and harassment, white supremacy, ableism, and cis-hetero-patriarchy. We also commit to defending any member of our community materially impacted by the politics of hate, ignorance, and abuse. Building an egalitarian, inclusive space of learning is our explicit mission, and we welcome all who share our core values.
---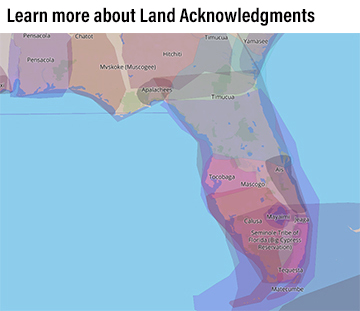 LAND ACKNOWLEDGMENT: We acknowledge that the Williams Building at Florida State University is located on land that is the ancestral and traditional territory of the Apalachee Nation, the Muscogee (Creek) Nation, the Miccosukee Tribe of Florida, the Independent Traditional Seminole Nation, and the Seminole Tribe of Florida. We pay respect to their Elders past and present and extend that respect to their descendants, to the generations yet unborn, and to all Indigenous people. We recognize that this land remains scarred by the histories and ongoing legacies of settler colonial violence, dispossession, and removal. In spite of all of this, and with tremendous resilience, these Indigenous nations have remained deeply connected to this territory, to their families, to their communities, and to their cultural ways of life. We recognize the ongoing relationships of care that these Indigenous Nations maintain with this land and extend our gratitude as we live and work as humble and respectful guests upon their territory. We encourage you to learn about and amplify the contemporary work of the Indigenous nations whose land you are on and to endeavor to support Indigenous sovereignty in all the ways that you can.

FSU's land acknowledgment statement.
---
In response to recent anti-Black violence in our community, the Department of English wants to amplify calls to speak out against racism and to support activists and organizations that are working on the front lines of the battle against systemic oppression. If you want to get involved, below are some resources and links.

"How to Support Protestors in Every City" by Jael Goldfine and Taylor Champlin of PAPER magazine. This page provides a list of ways to contribute to bail funds for protestors who have been arrested in cities and regions across the US.

"Resources for Accountability and Action for Black Lives": – This Google doc includes information and links to petitions, funding sites (for bail, legal aid, and health care for protestors), as well as multiple organizations involved in the national fight for racial justice, such as the Movement for Black Lives, BYP100 (the Black Youth Project), Communities United for Police Reform, Black Visions Collective, and many others.
Organizations 
Tallahassee Community Action Committee / Tallahassee Bail Fund / Color of Change / Center for Black Equity / Circle of Mothers / Dream Defenders / Know Your Rights Camp / National Coalition on Black Civic Participation / LIVE FREE
---
Collaborative Voices: A Gathering With FAMU's and FSU's English departments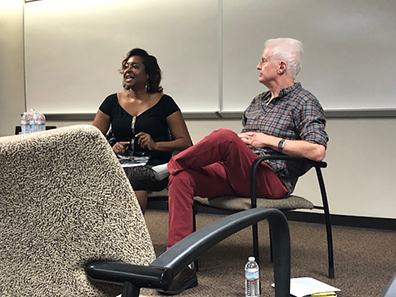 Professors, graduate students, undergraduate students, authors, and others from the Tallahassee community came together for a very special event -- an inter-departmental get-together with Florida A&M University and Florida State University. The event featured FSU English Professor David Kirby and FAMU Visiting Professor of English Yolanda J. Franklin (both pictured above), who read from their recent publications, Get Up, Please and Blood Vinyls, respectively. Franklin earned her Ph.D. from FSU in 2017.

This event was the first of what is scheduled as an annual gathering, intended to foster a spirit of inter-departmental collegiality between Tallahassee's two sister institutions.

Please click here for more information about FAMU's Department of English.

 
---
RECENT RESOURCES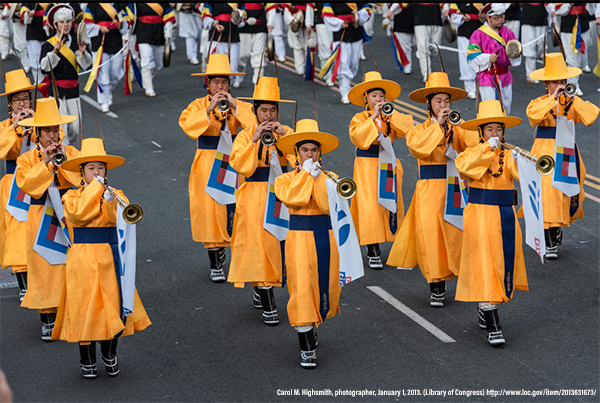 APAI Heritage Month
Asian/Pacific American Heritage Month celebrates and pays tribute to the contributions generations of Asian/Pacific Americans have made to American history, society and culture. For more information, visit the Asian Pacific Heritage website. Click here to watch a recent panel hosted by Advising First at FSU that celebrates Asian and Pacific Islander American (APIA) Heritage Month.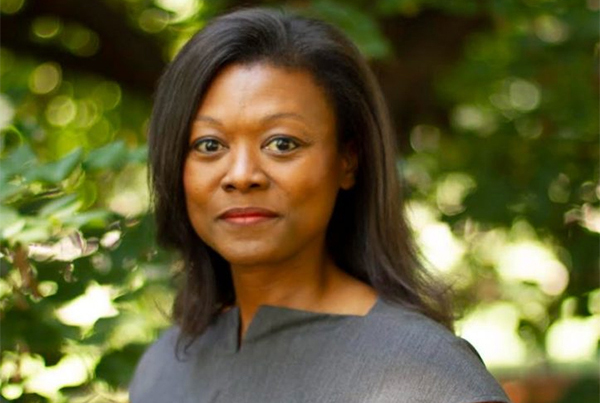 Essay
Please read Teaching & the N-word: Questions to Consider by Koritha Mitchell, who is currently a professor of English at Ohio State University. She also is an author, literary historian, cultural critic, and professional development expert.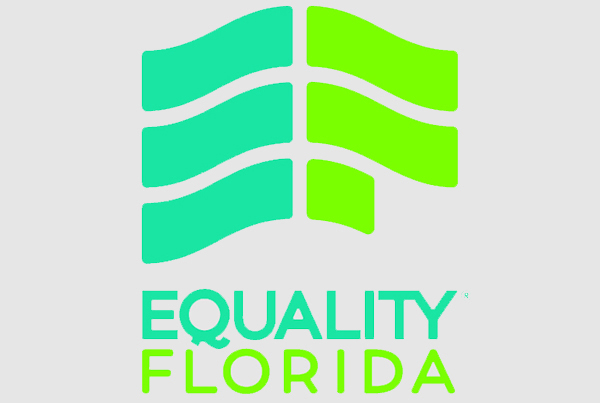 Equality Florida
Equality Florida is the largest civil rights organization dedicated to securing full equality for Florida's lesbian, gay, bisexual, transgender and queer (LGBTQ) community.
---
FACULTY, STAFF, AND ALUMNI RESOURCES
 

# FSU English Assistant Professor John Ribó and FSU English doctoral students Jeannine Ortega and Kristy Cherry-Randle launched an anti-racist, decolonial reading group. English department graduate students in all three programs can receive one hour of credit for participating in the reading group, which is listed as ENG 5998-0011 with Dr. Ribó as the instructor of record. There is, however, no need to sign up for the one-hour course to participate in the reading group.

In the fall of 2021, Dr. Ribó led a discussion of Christina Sharpe's short essay "Lose Your Kin" from The New Inquiry, available here. If you are interested in attending, please contact one of the organizers for the Zoom invitation and access to the reading group's Canvas site. Dr. Ribó's email address can be found on his faculty page (linked above).

# Florida State University and Florida A&M University alumna and current Associate Provost for Academic Affairs and Associate Professor of History at Florida Memorial University Tameka Bradley Hobbs: Democracy Abroad, Lynching at Home: Racial Violence in Florida

Please listen to Dr. Bradley Hobbs' June 4, 2020, lecture in which she contextualizes her book.

# FSU Assistant Professor L. Lamar Wilson, a 2001 Florida A&M alumnus who returned to Tallahassee in the fall of 2020 to join FSU's English department faculty, collaborated with Rada Film Group as an associate producer and lead subject for the award-winning film The Changing Same, (PBS/POV Short, 2019), which centers Wilson's Pushcart-nominated poem "Resurrection Sunday" and portends the uprisings against white supremacist violence that have erupted around the globe.

The Changing Same revisits Wilson's annual half-marathon for a 1934 lynching victim, Claude Neal, in his Florida Panhandle hometown of Marianna, just 65 miles west of the Big Bend, from the POV of four participants. The film inspired an episode of the NPR podcast "Code Switch" titled "A Strange And Bitter Crop."

# English Department staff members submitted this "Staff Picks" watch list, movies and documentaries related to and concerning racial issues.

# Please read Spring of 2020 English department graduate Sabine Nemours' June 16 essay at Medium. Sabine won the department's 2020 Fred L. Standley Award for Outstanding English Undergraduate Career.
---
LOCAL AND OTHER RESOURCES
 

# Daniel R. Weinfeld, graduate of Harvard College and NYU School of Law, currently an attorney in New York City: The Jackson County War: Reconstruction and Resistance in Post–Civil War Florida and After War Times: An African American Childhood in Reconstruction-Era Florida (editor)

"These books are important texts for anyone who wants to understand the machinations in and around Tallahassee from Reconstruction to the worst periods of Jim Crow," English Assistant Professor L. Lamar Wilson says. "Although Weinfeld focuses on Jackson County in his first book, his second traces Marianna native T. (Timothy) Thomas Fortune's journey to Tallahassee, Jacksonville, and ultimately New York, where he'd flee Reconstruction violence to help shape the public correspondence and journalistic work of movements led by Booker T. Washington, W.E.B. Du Bois, and Marcus Garvey. Many of Tallahassee's power players pop up throughout all of these books."

# FSU Library recommended reading list: click here.

 

 

2020 Department Statement Against Institutional Racism and Racist Violence

The Department of English of FSU stands in solidarity with all those engaged in the fight against systemic and institutionalized racism. The deaths of George Floyd, Breonna Taylor, Ahmaud Arbery, and Daunte Wright—as well as the deaths of countless named and unnamed others—testify to the ongoing violence committed against Black people in our communities. The deeply entrenched historical roots of this violence along with those more casual acts of racism that perpetuate racial injustice must be denounced and resisted.

We also express our outrage at the murder of eight individuals in Atlanta, six of whom were of Asian descent and seven of whom were women. That attack was part of a much larger, documented surge in anti-Asian discrimination and hate crimes against Asian Americans since the declaration of the global COVID-19 pandemic. The murders also belong to a longer history in the United States of discriminating against and stereotyping Asian, Asian American, and Pacific Islander communities. We urge the FSU community to call out and confront violence against women and all forms of racism and xenophobia, including racist claims that scapegoat particular groups or countries for the global pandemic.

We recognize that issuing this statement is in no way a substitute for the necessary and sustained work of dismantling and combating systemic and institutionalized racism; that we must continue to examine our own practices and complicities in the injustices we condemn, and that we must be active rather than passive participants in this fight. As teachers, scholars, and staff members we hereby declare our commitment to this work and to providing a place of learning, of safety, solidarity, and inclusion.

This site represents one part of the English department's efforts to foster and implement anti-racist practices in our classrooms, workplace, and the community at large. A collaborative space where members can access and share resources, the site relies on community members' contributions in the form of documents, links, pedagogical resources, multimedia files, announcements, and other relevant items.

English Department Statement In Response To Campus Racism and Hate Crimes, October 7, 2021

Our Black students have, at great personal risk, brought to light a danger that affects our entire campus. It is imperative that we act on student concerns. The week of September 27 we, in the Department of English, were advised by the Black Student Union about a pervasive culture of anti-Black violence at FSU. KKK signage appeared on and around campus. Anti-Blackness, historically and currently, is never an isolated phenomenon. It is intertwined with other forms of hate and discrimination. Our Jewish students have also been recently targeted.

We are rhetoricians, literary critics, and creative writers. We witnessed the police and the administration's haste to minimize this outrageous violence by calling it "a prank." This was no "prank." To name it as such, and to name other acts of violence isolated "incidents," dismisses the gravity of the situation and suggests that racism is not a "credible threat" to our community. We will not downplay the impact of any hate crime by referring to it as an "incident" or "prank." Racism ought not be diminished through language. Violence, renamed, is violence still.

We believe our Black students when they say that racist slurs, harassment, and attacks are a regular occurrence. We believe our Black students when they say that fraternities use "sleeping with a Black woman" as a form of sexual conquest. We believe our Black students when they say that they are not okay. We believe our Black, Jewish, LGBTQIA+ students, and other students of color when they say that they do not feel safe. We do not tolerate racism or discrimination against any minoritized community.

We also support our Black faculty and staff alongside our Black students. We acknowledge that our colleagues have been profiled and harassed, and we have, at times, not known what to do or say. We realize that when we do nothing and say nothing, when we act like everything is fine, when we proceed with business-as-usual, we neglect to intervene in systemic racism and fail our community. We are stopping that pattern now.

The Department of English recognizes that statements of solidarity do not of themselves make change. We therefore call on our administration to lead every member of the FSU community in implementing concrete measures to combat systemic and institutional racism on campus.

 

 

 

 

 

 

 

 
Contact Information
Send messages and comments to Diversity Committee Chair.

We are unable to post unsolicited or unverified material.
title-inside title-centered
2