Inclusion, Diversity, Equity, Anti-racism, Accessibility, and Sustainability resources for the community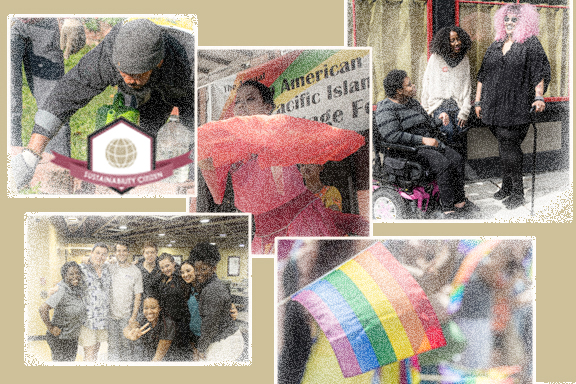 The Florida State English Department affirms difference and denounces exclusionary politics in all its many forms. Our goal is to advance social justice in higher education and support diverse knowledges and communities in our scholarship, teaching, and mentorship. As such, we are in solidarity with all those engaged in the fight against discrimination and bigotry, exploitation and harassment, white supremacy, ableism, and cis-hetero-patriarchy. We also commit to defending any member of our community materially impacted by the politics of hate, ignorance, and abuse. Building an egalitarian, inclusive space of learning is our explicit mission, and we welcome all who share our core values.
---
---
In response to recent anti-Black violence in our community, the Department of English wants to amplify calls to speak out against racism and to support activists and organizations that are working on the front lines of the battle against systemic oppression. If you want to get involved, below are some resources and links.

"How to Support Protestors in Every City" by Jael Goldfine and Taylor Champlin of PAPER magazine. This page provides a list of ways to contribute to bail funds for protestors who have been arrested in cities and regions across the US.

"Resources for Accountability and Action for Black Lives": – This Google doc includes information and links to petitions, funding sites (for bail, legal aid, and health care for protestors), as well as multiple organizations involved in the national fight for racial justice, such as the Movement for Black Lives, BYP100 (the Black Youth Project), Communities United for Police Reform, Black Visions Collective, and many others.
Organizations 
Tallahassee Community Action Committee / Tallahassee Bail Fund / Color of Change / Center for Black Equity / Circle of Mothers / Dream Defenders / Know Your Rights Camp / National Coalition on Black Civic Participation / LIVE FREE
---
Collaborative Voices: A Gathering With FAMU's and FSU's English departments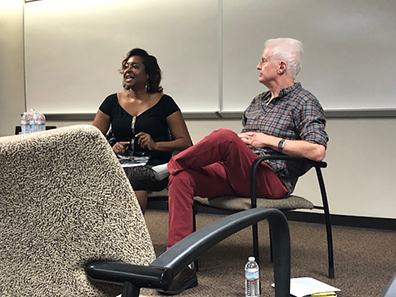 Professors, graduate students, undergraduate students, authors, and others from the Tallahassee community came together for a very special event -- an inter-departmental get-together with Florida A&M University and Florida State University. The event featured FSU English Professor David Kirby and FAMU Visiting Professor of English Yolanda J. Franklin (both pictured above), who read from their recent publications, Get Up, Please and Blood Vinyls, respectively. Franklin earned her Ph.D. from FSU in 2017.

This event was the first of what is scheduled as an annual gathering, intended to foster a spirit of inter-departmental collegiality between Tallahassee's two sister institutions.

Please click here for more information about FAMU's Department of English.

 
---
RECENT RESOURCES
---
FACULTY, STAFF, AND ALUMNI RESOURCES
---
LOCAL AND OTHER RESOURCES
Contact Information
Send messages and comments to Diversity Committee Chair.

We are unable to post unsolicited or unverified material.