Associate Professor, Dean of Undergraduate Studies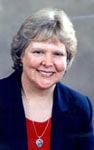 UCA 3300
Modern and American drama, women's studies and critical theory
KAREN LAUGHLIN, Associate Professor, Ph.D. University of Toronto (1982). Dr. Laughlin, who now serves as Dean of Undergraduate Studies at FSU, specializes in Modern and American Drama, Critical Theory, and Women's Studies. She won a University Teaching Incentive Award in 1994 and 1996. She is a member of MLA and The Samuel Beckett Society.
PUBLICATIONS
Theatre and Feminist Aesthetics Ed. Karen Laughlin and Catherine Schuler, Fairleigh Dickinson University Press, 1995.
"'DREAMING OF [...] LOVE': Beckett's Theatre and the Making of the (Post)Modern Subject." Samuel Beckett Today/Aujourd'hui 11: "Samuel Beckett: Endlessness in the Year 2000/ Fin sans fin en l'an 2000." Ed. Angela Moorjani and Carola Veit. Amsterdam/New York: Rodopi, 2002: 202-09.
"Abundance or Excess? Beth Henley's Postmodern Romance of the True West," in Beth Henley: A Casebook, Ed. Julia A. Fesmire, New York: Routledge, 2002: 88-104.
"Conflict of Interest: The Ideology of Authorship in Glaspell's Alison's House," in Susan Glaspell: A Collection of Critical Essays, Ed. Linda Ben-Zvi, Ann Arbor: University of Michigan Press, 1995: 219-235.
"Brechtian Theory: American Feminist Theatre," in Re-interpreting Brecht: His Influence on Contemporary Drama and Film, Ed. Pia Kleber and Colin Visser, Cambridge University Press, 1990: 147-160. Reprinted in the Brecht Sourcebook, Ed. Carol Martin and Henry Bial, London: Routledge, 2000: 214-227.
ACADEMIC SERVICE
Faculty Senate President, FSU, 2000-2002.
Member, Graduate Policy Committee, FSU, 1996-2000; Chair 1997-2000.
Member, Athletic Committee, FSU 2000-present.
Associate Chair and Director of Graduate Studies, Department of English, FSU 1993-96.
Member Undergraduate Policy Committee, FSU 1985-96; Chair 1992-96.