Assistant Professor, Director, Graduate Certificate in Publishing and Editing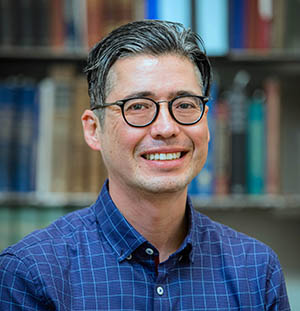 WMS 229
History of the book in America, seventeenth- through nineteenth-century; History of Text Technologies; American literature to 1900; Critical Theory (materiality, media, social theory); Latinx literature.
John J. Garcia, Assistant Professor, Ph.D., University of California, Berkeley (Rhetoric and Critical Theory, 2014), specializes in the history of the book in America from the colonial era to about 1900. I am broadly interested in the material histories of cultural artifacts and documents and how they intersect with issues such as race, politics, war, and the body.
I am currently writing a cultural history of publishing, printing, papermaking, and paperwork entitled Without Order: Booksellers and the Failures of the Early American Book Trade, 1679-1825. Drawing from a diverse array of manuscript sources alongside close readings of books as material objects, the monograph explains how and why failure was normative and productive for publishing economies and cultures of reading across the long eighteenth century. By linking stories of debt and business disaster with failure's material manifestations — typographical errors, broken and stolen print technologies, labor shortages, censored volumes, shoddy bindings, etc. — Without Order rewrites early American book history by overturning the assumption that print capitalism experienced largely unchecked growth in the transition from colony to nation. Without Order decenters the printer as the focal point of print culture, and in so doing shows how early American booksellers and their networks are foundational to a variety of literary cultures. Along the way, Without Order recovers marginalized figures, specifically, free and enslaved African Americans who contributed essential labors behind the book trade at key moments of publishing, printing and papermaking.
My second book project is an illustrated diary from a man who spent most of his life in European and American asylums in the latter part of the nineteenth century. Graphic Madness: The Illustrated Diary of Charles A. Beach is a critical edition that will make available a unique primary source of interest for scholars of disability studies as well as for nineteenth-century American literature, sexuality, and visual culture. An essay from this project, on the topic of reading autobiographical manuscripts, will be part of an edited collection on handwriting in America.
I serve as Vice President (2021-22) and President (2022-23) of the Andrew W. Mellon Society of Fellows in Critical Bibliography at Rare Book School. As of Spring 2021, I also serve on the editorial board for the journal Commonplace: the journal of early American life (http://commonplace.online/).
Selected Work (in print and online)
Recent and Upcoming Presentations
Invited Speaker, "The Revolution in Books," NEH Summer Institute, Florida Atlantic University, Summer 2022.
Invited Speaker, "Textual Editing and the Future of Scholarly Editions: A Conference on the Bicentennial of James Fenimore Cooper's The Spy," American Antiquarian Society, May 2021.
Organizer, "Race and the Boundaries of the Book," Rare Book School, Oct. 2020.
"Samuel Johnson, Parson Weems, and the Problem of Slavery in the Vicinity of the Early National Book Trade," C19: The Society of Nineteenth-Century Americanists , Oct. 2020.
"Graphic Madness: Sexuality in the Illustrated Diary of Charles Beach," C19: The Society of Nineteenth-Century Americanists, Oct. 2020.
"Blanks, Paperwork, Racialization," The Futures of Handwriting, University of Louisville, April 2019.
Fellowships
Diamonstein-Spielvogel Fellowship, New York Public Library, Spring 2022.
First Year Assistant Professor Award, Florida State University, 2020.
Barbara Rootenberg Library Research Fellowship in the History of Medicine and the Life Sciences, UCLA Library Special Collections, 2020.
National Endowment for the Humanities Fellowship, American Antiquarian Society, 2019-20.
Short-Term Fellowship, American Philosophical Society, 2019.
Scholars' Workshop, Omohundro Institute of Early American History and Culture, College of William & Mary, Summer 2018.
Reese Fellowship in the Print Culture of the Americas, The Huntington Library, Summer 2018; William L. Clements Library, University of Michigan, May 2018.
Postdoctoral Fellowship, Program in Early American Economy and Society, Library Company of Philadelphia, 2017-18.
Short-Term Fellowship, Folger Shakespeare Library, May 2017.
Short-Term Fellowship, Manuscripts and Archives Division, New York Public Library. Aug. 2016.
Andrew W. Mellon Fellowship of Scholars in Critical Bibliography, Rare Book School, University of Virginia, 2013-15.
Ford Foundation Postdoctoral Fellowship, 2015-16.
Katherine Pantzer Fellowship in the British Book Trade, Bibliographical Society of America, 2015.
Andrew W. Mellon Fellowship in Early American Literature and Material Texts, McNeil Center for Early American Studies, University of Pennsylvania, 2013-14.