Assistant Professor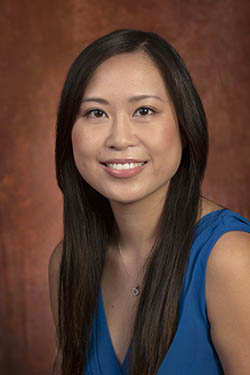 WMS 325
Asian American and multiethnic cultural studies, 20th and 21st century literatures of the Americas; science and speculative fictions, feminist and queer of color critique, American studies, ethnic studies, critical university studies and pedagogy
FRANCES H. TRAN, Assistant Professor, Ph.D. The Graduate Center of the City University of New York (2016), specializes in contemporary Asian American and multiethnic literatures and popular culture. Her research draws on science and speculative fictions to explore the practices and pedagogies they illuminate for critiquing the violences of racialization and social inequity.
Her current book project attends to the centrality of Asia to the imagination of futurity in the so-called "Asian" or "Pacific" century. In particular, she elaborates Asian futurism as a critical framework for probing the material conditions and imaginaries that underwrite our contemporary moment. Drawing on a transnational multidisciplinary archive of literature, film, photography, and visual art, she traces how narratives of "rising Asia" create openings from which to investigate the relationship between Asian racialization and the production of futurity. The book asks: How might the imbrication of Asian-raced subjects and spaces with the future-oriented temporal logics that drive racial capitalism, the neoliberal university, globalization, and global militarization complicate an articulation of antiracist and decolonial politics in the present? Recognizing, moreover, that only certain aspects of Asia and Asian-ness get to signal futurity, how do we address the forms of minoritized difference that have been disavowed, barred, or excluded from such narratives to make perceptible counter-temporalities and other possible futures? By examining how minoritized authors and artists prompt us to rethink the relationship between Asia and futurity by revising popular science fictional and speculative tropes—from time travel and teleportation to robotics and quantum entanglement—this book probes how Asian futurism might participate in the antiracist and decolonizing genealogies of Afrofuturism and ethnofuturisms more broadly.
PUBLICATIONS
"Time Traveling with Care: On Female Coolies and Archival Speculations," American Quarterly 70, no. 2 (June 2018): 189-210. Companion piece for AQ Beyond the Page:
https://www.americanquarterly.org/content/june-2018.
"How to Live UnSafely: Toward a Better Good Life for Asian American Studies," The Journal of Asian American Studies 19, no. 2 (June 2016): 213-235.
Review of Racial Asymmetries: Asian American Fictional Worlds, by Stephen Hong Sohn, The Journal of Asian American Studies, 17, no. 3 (October 2014): 377-380.
SELECT PRESENTATIONS
"'There's more hunger in the world than love': Unsentimental Heroism in Liu and Takeda's Monstress." National Women's Studies Association Annual Conference, Atlanta, GA (November 8-11 2018).
"To Inhabit In-Between Spaces, of Crisis and Becoming: On A Body in Fukushima." American Studies Association Conference, Atlanta, GA (November 8-11 2018).
"When Empathy is Not Enough: Cross-species Alliances and Other Practices of Looking in Bong Joon-ho's Okja." Association for Asian American Studies Conference, San Francisco, CA (March 29-31 2018).
"Unruly Animations: Disney's Big Hero 6 and the Future Geographies of the University." American Studies Association Conference, Chicago, IL (November 9-12 2017).
"Minor Acts and Magicks in Miyazaki's Ponyo: On Asian Americanist Critique and Global Climate Change." Association for Asian American Studies Conference, Miami, FL (April 28-30 2016).