The Southeast Review's content expands under Editor-in-Chief Dorothy Chan's leadership
---
The Southeast Review's content expands under Editor-in-Chief Dorothy Chan's leadership
By Samantha De Oliveira
The Southeast Review has always been a literary gem in the English department, but current Editor-in-Chief Dorothy Chan is curating content to reflect the diversity in the writing world.
Master's and Ph.D. students, ranging from majors in creative writing to literature to rhetoric and composition help edit the journal. Their goal is to publish works that not only bring a diverse group of writers together but also welcome a diverse audience with a range of interests and aesthetics.
Chan's role involves wearing many hats, sometimes all at once. As editor-in-chief she manages the day-to-day operations, which sometimes can be as simple as being available in the office for impromptu meetings with the other editors. Her responsibilities go deeper, however, since Florida State University is such a large school with a sizeable English graduate program, and it is her job to essentially manage anyone from the pool of students who want to work on The Southeast Review (SER).
In addition to maintaining a smooth print journal consistency with the publication's 40-year history dating back to its beginning as Sundog, Chan and others at SER acknowledge the digital route that many journals are taking and took that aspect to the next level by keeping their traditional print issue, along with creating an entire online component, designed by Assistant Editor, Zach Linge.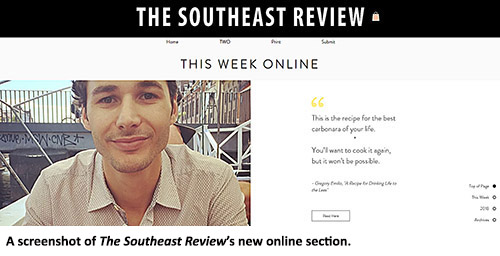 Their most recent growth has been through creating an online component called TWO or "This Week Online."
While printing problems such as pricing and space are resolved when an online component is created or transitioned to, TWO also gives SER the opportunity to publish works that are very urgent, immediate, or political.
There are so many journals out there and there's always this debate in the literary world about print versus online when it comes to journals," Chan says. "As a woman of color and as a queer woman, I have always found a great home in a lot of online journals, especially when I first started publishing. I argue that historically, online journals have been known as safe spaces for marginalized writers, especially LBGTQIA writers of color."
As editor, Chan manages the entire editorial staff that looks over sections including poetry, nonfiction, fiction, book reviews, art, interviews, and the online component. Frequent posts on TWO supplement the two print issues SER creates each academic year. One advantage of TWO is that staff can dig out pieces from their archives and feature "throwback" posts, whether they are poetry, fiction, essays, or book reviews.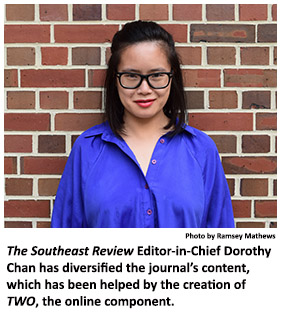 Another way TWO works for SER is that the editors can publish pieces that don't fit the traditions of print publication on the online component. Editors at SER make these decisions in order to create a flow or logic to the publication that readers will be able to feel as they move through the magazine (both print and online).
SER is unique in that it doesn't hold to a central theme, Chan says, and each issue is "a very conscious mix" of pieces that work together and that blend well. Creating the changes she wanted to bring to the publication isn't an overnight task, but she is pleased with the ways she's seen SER grow since her time as assistant editor and then editor-in-chief.
"At first, a long time ago, our aesthetic was more of the traditional male southern writer but as editor-in-chief my goal—with my identity especially—is to diversify the voices presented and that has been really helpful with our online component," Chan says.
Giving a voice to queer writers of color was part of the plan Chan had at the top of her to-do list when she became the editor of SER. According to Chan's graduate committee chair, English Senior Lecturer Barbara Hamby, this has always been a part of Chan's appeal as a writer.
"I remember when I was reading her application for our Ph.D. program," Hamby says. "I was struck by the wild energy of her poems and how she was investigating female sexuality with an edginess that I don't often see and with a generosity of spirit."
Chan recently defended her Ph.D. dissertation in creative writing, and she begins teaching in the fall of 2019 as assistant professor at the University of Wisconsin-Eau Claire.
Chan notes another shift she's seen in the growth of SER is recently gaining permission to publish work by a writer she personally admires, Ching-In Chen.
"Chen's work is interesting to me because Chen is the product of Chinese immigrants. In the households of many Asian immigrant families, both English and the mother language are spoken. Sometimes it's only the original language and sometimes it's a mixture of both the mother language and English (especially to the child). English isn't the first language of these immigrant parents," Chan says. "And I see these concepts reflected in Chen's work."
Chan notes her love for Chen's poetry stems from how instead of directly stating that "They are the product of Chinese immigrants," they show this fact through the forms in their writing. Chan stresses the importance of immigrant (and child of immigrant) writing both in the classroom and in publishing.
"I use this as a prime example because in the past with SER I feel like we historically published a lot of narrative, straight-forward (traditional, Western) poetry, but this is an example of us really branching out and reaching new and important audiences," Chan says.
Hamby appreciates Chan's leadership at SER, and says she has the right balance of working on the details of running the journal while understanding the big picture and how everything works together.
"One of the things I love most about her tenure at SER is how she has mentored other staff," Hamby says. "This translates into her poetry as well. She works hard on individual poems, but she is always aware of how the poems relate together as a whole."
SER will continue to expose fresh, new voices to an audience that extends beyond FSU, with pieces written by authors with different identities and unique narratives. Their journal's next issue, number 37.1, will be released in February 2019. The editors are also preparing for the Association of Writers & Writing Programs (AWP) conference in Portland, Oregon, in March 2019, and they are co-hosting a reading at AWP with New Delta Review, Redivider, and The Boiler.