Department of English Anti-racist Resources
---
Department of English Anti-racist Resources
The Department of English of FSU stands in solidarity with all those engaged in the fight against systemic and institutionalized racism. The recent deaths of George Floyd, Breonna Taylor, Ahmaud Arbery, and here in Tallahassee, Tony McDade—as well as the deaths of countless named and unnamed others—testify to the ongoing violence committed against Black people in our communities. The deeply entrenched historical roots of this violence along with those more casual acts of racism that perpetuate racial injustice must be denounced and resisted.
We also recognize that issuing this statement is in no way a substitute for the necessary and sustained work of dismantling and combating systemic and institutionalized racism; that we must continue to examine our own practices and complicities in the injustices we condemn, and that we must be active rather than passive participants in this fight. As teachers, scholars, and staff members we hereby declare our commitment to this work and to providing a place of learning, of safety, solidarity, and inclusion.
This site represents one part of the English department's efforts to foster and implement anti-racist practices in our classrooms, workplace, and the community at large. A collaborative space where members can access and share resources, the site relies on community members' contributions in the form of documents, links, pedagogical resources, multimedia files, announcements, and other relevant items.
Please explore this page, and please continue to check back regularly as we update with more information.
Resources
June 2020
Faculty Publications
Please listen to and read this NPR interview with English Associate Professor Alisha Gaines titled "Code Switch: The Limits of Empathy"
Other publications by Alisha Gaines: Black for a Day: White Fantasies of Race and Empathy
Please read English Assistant Professor Ravi Howard's June 12, 2020 essay in The Article
Other publications by Ravi Howard: Like Trees, Walking; Driving the King
Publications by Professor Maxine Montgomery: New Critical Essays on Toni Morrison's God Help the Child: Race, Culture, and History;
Contested Boundaries: New Critical Essays on the Fiction of Toni Morrison; The Fiction of Gloria Naylor: Houses and Spaces of Resistance
Statements
Letter to FSU's Black Students from Black Faculty: click here
Letter to FSU's Black Students, Staff, and Faculty from Latinx Faculty: click here
American Studies Association, President's Statement on Black Lives Matter and the Rebellion of 2020
Modern Language Association statement
Other Resources
Nic Stone, author of the best-selling young adult novel Dear Martin, explains why your anti-racist reading lists aren't enough. Read "Don't Just Read About Racism—Read Stories About Black People Living" here.
English Department staff members submitted this "Staff Picks" watch list, movies and documentaries related to and concerning racial issues.
Florida State University and Florida A&M University alumna and current Associate Provost for Academic Affairs and Associate Professor of History at Florida Memorial University Tameka Bradley Hobbs: Democracy Abroad, Lynching at Home: Racial Violence in Florida
Please listen to Dr. Bradley Hobbs' June 4, 2020, lecture in which she contextualizes her book.
Daniel R. Weinfeld, graduate of Harvard College and NYU School of Law, currently an attorney in New York City: The Jackson County War: Reconstruction and Resistance in Post–Civil War Florida and After War Times: An African American Childhood in Reconstruction-Era Florida (editor
These books "are important texts for anyone who wants to understand the machinations in and around Tallahassee from Reconstruction to the worst periods of Jim Crow," English Assistant Professor L. Lamar Wilson says. "Although Weinfeld focuses on Jackson County in his first book, his second traces Marianna native T. (Timothy) Thomas Fortune's journey to Tallahassee, Jacksonville, and ultimately New York, where he'd flee Reconstruction violence to help shape the public correspondence and journalistic work of movements led by Booker T. Washington, W.E.B. Du Bois, and Marcus Garvey. Many of Tallahassee's power players pop up throughout all of these books."
One of the earliest instances of grassroots student activism during the civil rights movement occurred in Tallahassee and was led by Quincy native Patricia Stephens Due and other FAMU students. Patricia's daughter, Tananarive Due, has recounted their 1960 efforts in Freedom in the Family: A Mother-Daughter Memoir of the Fight for Civil Rights
Please read Spring of 2020 English department graduate Sabine Nemours' June 16 essay at Medium. Sabine won the department's 2020 Fred L. Standley Award for Outstanding English Undergraduate Career.
FSU Library recommended reading list: click here.
Antiracist resources for your 2020-2021 teaching, compiled by the MLA
You May Be Your Black Colleagues' Amy Cooper
75 Things White People Can Do for Racial Justice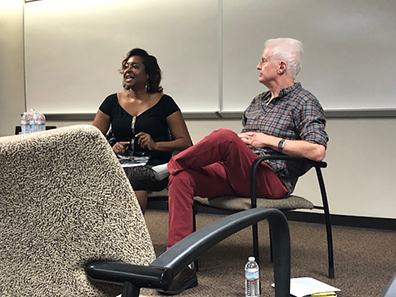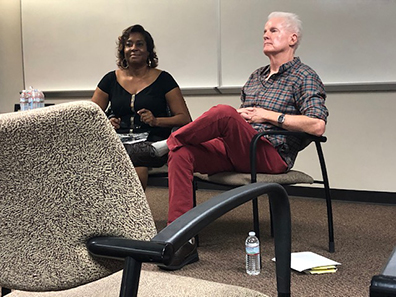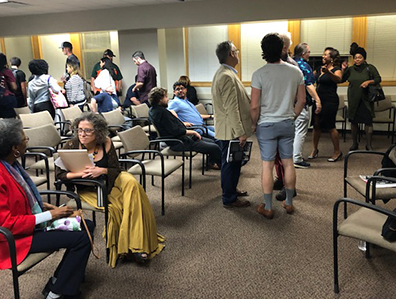 Collaborative Voices: A Gathering With FAMU's and FSU's English departments
Professors, graduate students, undergraduate students, authors, and others from the Tallahassee community came together November 7, 2019, for a very special event -- an inter-departmental get-together with Florida A&M University and Florida State University. The event featured FSU English Professor David Kirby and FAMU Visiting Professor of English Yolanda J. Franklin (both pictured above), who read from their recent publications, Get Up, Please and Blood Vinyls, respectively. Franklin earned her Ph.D. from FSU in 2017.
This event was the first of what is scheduled as an annual gathering, intended to foster a spirit of inter-departmental collegiality between Tallahassee's two sister institutions. The next gathering is tentatively scheduled to take place in the fall of 2020 on FAMU's campus.
Please click here for more information about FAMU's Department of English.